Go to chosen cells quickly
Select the cells you want to go to using the keyboard, fast… no matter where they are in your spreadsheet!
Quick Tip
Quickly find and select the cells you want, including named ranges and cells
Tired of navigating to the cells you want with the mouse?
This can be especially trying when you need to select cells that many rows or columns away from the current view, or on a different worksheet tab… or even in a different workbook file!
To quickly get to the cells you want, just use this keyboard shortcut:
Keyboard shortcut to go to cells in Excel
Use this keyboard shortcut to quickly go to the cells you want:
Action
Keyboard shortcut
Go to cells
F5
or
Ctrl + G
Keyboard shortcuts to go to cells in Excel
This shortcut opens the "Go To" dialog, which looks like this: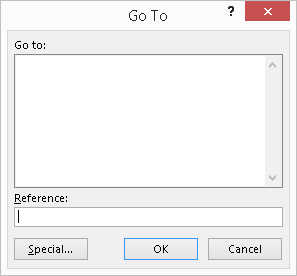 Go to named range or recent cell
You can use the "Go To" dialog to go to a recent cell in the list or a named range, like this:
Time needed: 1 minute
How to go to a named range or recent cell in Excel
Open the Go To dialog

You can use the keyboard shortcut F5 (or Ctrl + G if you prefer)


Focus on the list of recent entries and named ranges

You can just press Tab

Select the chosen cell address or range name

Use the arrow keys to select the destination

Click OK

Just press Enter to go to the chosen cell or range
The list of destinations should include all available named ranges. If the list is blank, check that you have first defined the range name (such as by using the Name Manager).
Difference between Go To and Select
There are subtle differences between using Go To and just selecting cells normally:
Go To adds the destination to the list of recent cell ranges, which then becomes available to select in the Go To dialog. This can be useful if switching between several cells or ranges that are visually far apart, such as when checking the links or formulas in a spreadsheet.
When automating Excel (such as with macros or VBA), Select will select cells whether or not they are visible, whereas Go To will navigate to them as well as select them. For example, if the cells found are on a different tab, Go To will switch to that tab.
Bonus Tip
Don't have a login?
Get a login for free on our standard plan, and get a new tip each week.
All logins also get access to the bonus tip each week.
Get even more
Get even more with one of our reasonably priced paid plans, with access to features like:
Quicksheet PDF summaries
Example files
VBA syntax
Additional expert tips each week
Advance publication
View our plans to see what else you are missing, or join for free on our Standard plan.